DELTA
Classic and modern designs, exotic and precious materials, both tradition and innovation are reflected in Delta's collections of writing instruments.
As collectors and pen enthusiasts become more demanding and appreciative of handmade products, Delta will continue to offer writing instruments made with great attention to detail by its very skilled artisans using techniques and know-how passed down through generations.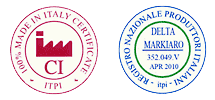 Delta has been certified as 100% made in Italy, by Istituto per la Tutela dei Produttori Italiani.
Delta also signs watches and leather goods.
Giardino Italiano is authorized dealer of Delta pens