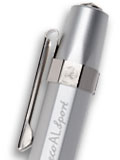 A Kaweco Sport in solid aluminium

KAWECO
S

PORT

AL
This Kaweco Sport AL is a new version of Classic because it's realized in solid aluminium instead of colored resin.

Same shape (octagonal shape, rounded at edges), same size, and same old motto "small in your pocket, large in your hand": when closed, it's a small pocket-pen, but it becomes a normal pen when opened, with the cap posted back.
Steel nib, M tip only, and steel trim.
The clip is removable: it's not attached to the cap, but it slides all over its length. It may be put in the preferred position, and it may even be removed at all.
In the following photos, in fact, we're showing the pen with and without the clip, in the available colors of anodized aluminium: chromed, anthracite grey, aluminium, black and blue.
The removable clip
- chromed -
can be purchased
separately


Length of the
capped fountain pen:
mm. 105;
open, with cap posted
on back: mm. 135
In the version Sport AL there is also a ballpen model, with the same shape and colors - and the same optional clip system.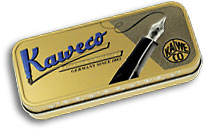 All Kaweco Sport come in a nice vintage-looking tin box.
A thin black eco-leather pouch - 1 or 2 places - is available as well, separately purchasable.

Description
Color
Version
Price €
Kaweco Sport AL fountain pen
Medium
Sold out
Kaweco Sport AL ballpen
ball pen
Sold out
Our order form calculates the shipping costs, which depend on weight, destination and carrier or mail.