A stylish re-edition of the old Manhattan, larger and more modern.


M

ANHATTAN
Limited Production:
500 fountain pens
500 rollers
500 ballpens
not numbered
Visconti already created a pen called Manhattan in 1994; its cap top was shaped as the steps of the top of New York skyscrapers.

More than 20 years later, in a time when everybody</p> like to reastyle old projects (just think to cars like 500 or Mini), also Visconti reworked its old product with a modern and actual design.

The new Manhattan is larger and longer, and acquired a fresh and modern style due to the new metal trims that were not present in the old pen.

Cap and body are made with black acrilic resin, with orange strings that mix in random designs giving a volcano's magma effect and making all pens different each other.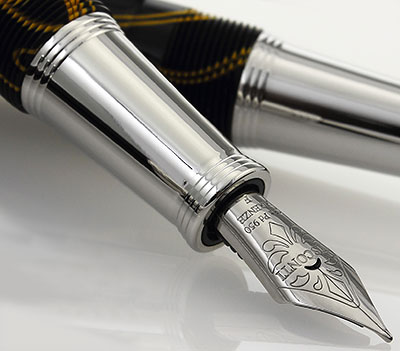 The steps of the skyscrapers' tops are still used as decorative motif, both at the cap top and in the grip.
Small Dreamtouch nib, 23 Kt palladium, all rhodiated.
Dreamtouch is the term Visconti coined to define this nib, that requires no pressure whatsoever in order to write, and traces in a gentle way thoughts and words for a dream handwriting.
The Filling system is the wellknown Visconti's High Vacuum Power Filler.

The Manhattan is not a Limited Edition, but it's produced in a limited quantity: only 500 pieces each model.
Pens are not individualy numbered.
Manhattan can be personalized with MyPenSystem's initials or gems.
Description
Color
Version
Price €
Our order form will calculate the shipping costs, which depend on weight, destination and carrier or mail.